SOUTHERN BOHEMIA, LIPNO LAKE,
CZECH REPUBLIC
10 – 17 June 2020
In spite of its popularity among continental Europeans, southern Bohemia, and the Czech Republic as a whole (perhaps with the exception of Prague) remain a bit of an unexplored territory for the British. Because I love to share the beauty and culture of my homeland with others, I am organising our fourth BraveBodies holiday in this fabulous region, but this time in a brand-new location, a four-star resort right by the Lipno lake. Those of you who have come on previous holidays with me will remember a day spent at the lake, and as the area is getting more developed and more interesting by the year while offering access to stunning nature around, I thought it would make the perfect place for a wholesome holiday experience. I am confident that you will fall in love with Lipno, and with Southern Bohemia, at first sight!
Wait, why is it called a holiday? Aren't you running a retreat?
Technically, a retreat is a place you go to "hide" to practice, practice and practice some more. The main focus of retreats is improving your skills and deepening your knowledge of a particular discipline. You don't usually leave the residence during this time. Many retreats offer 4 or more hours of exercise per day, morning and evening, with time to relax in between, and not too much more.
I, too, want you to improve your practice, self awareness and become stronger and fitter, but I also want you to have a
lot of fun! Especially considering you will have traveled a considerable distance and there is so much to see and do here. I don't really want you to retreat, I want you to have a great time! Make new friends, drink some great beer, eat something a bit naughty and walk it off among pines and mossy boulders… just make the most of it. Moreover, if you normally only do an hour of yoga or Pilates per week (which tends to be the case for many), putting your body through four or six hours a day is a bit of a shock to the system. Two hours is plenty, and that's what we will do. Yoga and Pilates in the mornings, followed by thirty or forty minutes of meditation and breathing… and then, off we go! A holiday it is.
Tell me more about the yoga and Pilates stuff.
Two hours give us some time to spend on things we couldn't fit into a typical class. We will learn more about anatomy, try different techniques to achieve more ambitious poses, explore pranayama (yogic breathing) and brush up on principles of correct movement and alignment. There will be some partner work, too. We will play around more! This year I will also spend time teaching hypopressives, a breathing practice with roots in yoga which aims to restore function to the pelvic floor and the abdominal wall. It is certainly a great skill to acquire and a very beneficial exercise to do on a daily basis – it has the potential to sort out not only your pelvic floor, but also your posture, through vigorous work with the diaphragm. I look forward to sharing this simple and effective technique with you.
In addition, we will be spending about 30 minutes a day in meditation, something we also do not have time to do in a regular class.
So, what else will we do?
At Lipno, we are truly spoilt for choice. Apart from a swimming costume, pack some sturdy boots as we will be walking and hiking. There are hundreds of trails around the lake, castles to visit nearby, and lots of water-related attractions. For those of you who like to cycle, there are many brand-new cycling paths, too. I tested them last summer and it was a fantastic experience — two hours on the bike just flew by. We will of course also do a day trip to Český Krumlov, the second most popular destination after Prague — for a good reason! It's a beautifully preserved medieval town governed by a large castle, with cobbled streets and countless taverns and restaurants, perfect for a chilled day of enjoying Bohemia's best. There will also be an option to do rafting down the Vltava river — this has been, for many, a highlight of the whole stay, so something not to be missed!
Will you be running the holiday alone?

I am lucky this year as my husband Ian will be coming with me to help me, and to look after our daughter when I am teaching or otherwise busy. He will be there for the first four days or so, and this will enable us to have more options in organising our activities. Ian is very athletic so he can be in charge of the more challenging stuff, like doing a long cycle around the lake while the rest of us go for a walk, but he is also a botanist and a zoologist, so you can pick his brains during our walks. In any case, I will be very happy to leave you in his capable hands.
I'm not sure I want to do so much running around, do I have other options?
You don't have to take part in anything you don't want to do, and if you feel you just want to put your feet up and chill out at the resort or stroll into Frymburk town for a beer or a piece of cake, you are completely free to do that. I always plan a full timetable for everyone to help you get the most out of your stay, so I hope you will join in on everything, but I'm not going to micromanage your time. No offense taken if you make other plans! We will have a day off, too.
Where are we going to stay?
Our accommodation is called Amenity Resort Lipno which is right by the lake and has  a private beach. We will stay in a combination of two Deluxe houses and potentially also their hotel rooms (depending on numbers). The hotel rooms do not have a kitchen, but should you stay there and wish to cook something, you are most welcome to walk over to one of the Deluxe houses!
There is a large indoor pool we can use for free before 1pm, so if you don't fancy the lake for a morning dip, you have another option. The resort also has a beautiful wellness centre offering several different types of saunas,
whirlpools and treatments, for a reasonable price. There is also an impressive sport arena where you can play tennis, squash, badminton, ping pong and even have a game of bowling (all extra charge). We will be doing our morning exercise in the sports arena, in one of their smaller rooms. I am currently trying to find out
Please visit their beautiful website for photos and more information!
What will a typical day look like?
The timetable will look something like this:
8:00 am — lemon water (good for cleansing your system), fruit and snacks, mini-walk or a quick swim (if you're up for it!)
8:30-10:00am — yoga, Pilates, or both
10:00-10:30am — hypopressives, meditation (we may change location)
11:00am-12:00pm — brunch
12:00 – 1:30pm — siesta time
2:00pm —  a trip somewhere amazing!
7:00-8:00 pm — return
9:00-10:00pm — social time, if we still have energy (games, TED talks, etc).
10pm — bedtime
This is just to give you a rough idea, we don't have to be always this rigid. Some changes may be necessary depending on the weather, but the summer in the Czech Republic is usually reliably warm and sunny, so fingers crossed and we'll have sunshine the whole week.
My partner doesn't do yoga or Pilates, can I still bring him/her?
Yes! They are welcome to spend the morning as they please, and will still have plenty to do with us for the rest of the day. If they are fans of water sports (or beer :)), even better! You may still want to secretly pack some stretchy clothes and challenge them to have a go at least once! They may find they are missing out.
So how many meals a day are we having?
This time, it will be brunch and snacks. During our last holiday we also had dinner, but that tied us to our hotel too much and we found it a bit restricting. There are so many places to eat in the area that it would be a pity not to take advantage of the local cuisine. We will also be out and about and may choose to stay away past dinner time. That said, the Blue Lipno restaurant serves excellent food all day long and you can choose to dine there in the evenings, too, so there is plenty of flexibility to accommodate us all.
There will be lemon water, nuts, muesli bars and fruit in the morning available to you before we start with our morning exercise. The Deluxe houses are also equipped with a coffee machine so you can have your caffeine fix. I'm not being mean here, but I really don't want you to work out on a full stomach. I've been to retreats where we were served a wonderful and very filling breakfast, and then went straight onto our mats… urgh. Not pleasant, and not healthy. There will be enough to keep your blood sugar stable, so don't worry about going hungry. If you, however, really need a full breakfast,your accommodation will have a  kitchen and a refrigerator, so you can buy your own food, or we can arrange something with the hotel for you. Brunch should keep us going through the afternoon, and there will be water and snacks for you to take when we go out, too.
I am a vegetarian, will I have veggie options?
Both vegetarians and meat eaters will be catered for. If you are vegan or have any other dietary restrictions or food allergies, please let me know in advance and I will make arrangements with the restaurant.
And how do I get there?
There are two main options you have. The first is to fly from Gatwick Airport to Prague. The flight with EasyJet leaves at 8:55am and arrives in Prague at 11:55am (with one hour am time difference). The disadvantage of this flight is that it's a very early start for you — you will need to be in Gatwick at 7:30am at the latest, which means leaving after 5am from Southampton.
The second option is to fly to Prague from Stansted with RyanAir or EasyJet. There is a flight at 12:25pm, a bit more pleasant timing, and one before noon. Stansted airport is a bit further, but perhaps worth the extra travel for the comfort of not having to get up at 4am.
At the moment, flights are super-cheap! About £40 there and £30 back from Gatwick with EasyJet, even cheaper from Stansted. I'm buying mine ASAP!
In the past, I have arranged a shuttle to collect everyone from the airport and bring them all the way to the holiday site. From Prague, the journey south to Lipno takes about three hours. I will be more than happy to arrange a shuttle this time as well, but I would need an agreement on the collection time. It will be a good idea if people can team up and perhaps also arrange a shuttle to Gatwick or Stansted  — it will work out cheaper and more relaxed than driving and you won't have to worry about parking your car for a hefty fee for a week! Some of you may also choose to go sooner (perhaps Friday?) to spend the weekend in Prague, and make your way to the resort on your own. If that's the case, let me know and I will help you find the best connection. There is a good website for figuring out how to get around the country by public transport, unfortunately only in Czech… most of it is self-explanatory but let me know if you need help.
The returning flight leaves Prague at 12:25pm and arrives in Gatwick at 13:35pm. There is a train you can take straight from the airport to Southampton which takes two hours, and I find it the best way to come back. I will be arranging a shuttle from Lipno to Prague for this flight, so please let me know whether you want a seat. If you don't, I will refund you the shuttle cost (usually around £30).
So, how much do I need to save up?
Early bird: £585 per person sharing a double room
if booked by 15 March 2020 (a deposit will count, too)
Late bird: £640 per person sharing a double room
I am currently trying to find out reasonable options for single occupancy. The only one that appears available at the moment would mean you staying in a double room in the hotel, which would bump your cost up by almost £300! If you definitely know you don't want to share a room, please let me know and I can see what I can sort out. The Deluxe houses have the option of an extra bed outside the bedrooms, but that would mean you would be probably sleeping in the living room area.
A non-refundable deposit of £300 must be paid by 31 April 2020, with the rest payable no later than 15 May 2020. I wouldn't advise to wait until then though, last time the retreat sold out by the end of January. If you are thinking of coming and need some more time to decide, at least get in touch so that I have you on my list.
What is included:
Shuttle to Prague Airport upon return (cca 3 hours)
4* accommodation for 7 nights
Brunch, snacks and water during the day
Yoga, Pilates and meditation tuition
Use of indoor pool until 1pm (cca £2.50 after 1pm)
I would also like to add that you can approach me with any personal musculo-skeletal issues or queries, or if you want to improve your technique, and I will give you some extra attention in our free time (within reason) to help you as best as I can.
And what is not:
Flights
Alcoholic beverages (but the beer is very cheap! :)) for brunch
Local transport — buses and trains are very inexpensive
Extra food
Resort and local activities
Rafting trip
How much extra money will I need?
As of 16 January 2020, the exchange rate is 1 GBP to 29.4 CZK. You can check the current rate at www.xe.com
FOOD
If you budget £10 per day for your dinner, that should be just fine. The Blue Lipno restaurant at the resort is somewhat pricier than the average establishment, but there will be other places to eat at in the area. Their veggie courses are about £6.50, their soups around £3.50. You can see their full menu HERE.
There is another very good restaurant in Frymburk which has better prices and a greater choice of courses: https://restaurace-lipno.cz/menu/
I am sure we will venture out to test this one! Lots of nice traditional food as well. The Czech cuisine is a bit like the German one, lots of pork, beef, duck but here at Lipno also local fish, potatoes of all kinds, cabbage and sauerkraut, dumplings and sauces, and lots of desserts with poppy seeds, curd cheese etc. A bit on the heavy side but very tasty. If you are veggie, all restaurants should have decent options for you. Czechs are well known for picking wild mushrooms, and Southern Bohemia has lots of them in the summer, so local fungi will definitely be on the menu in many places as well!
TRAVEL
Traveling by public transport is pleasantly cheap. For example, a trip by bus from Frymburk to  Krumlov (40 mins) costs 36 crowns, about £1.20. Trains are similarly inexpensive. Budget about £20 for local transport for the week, maximum.
If you are thinking of spending a few days in Prague before or after our holiday, you may want to make arrangements to get to Prague by yourself. There is a great coach company which runs coach trips between Český Krumlov and Prague for less than £7 (for a three-hour journey), and you get refreshments, newspapers and a selection of movies on board! I love it. You can look them up here: https://www.www.regiojet.cz
ACTIVITIES
Bike rental — £7.50/hour, £13.20 for the whole day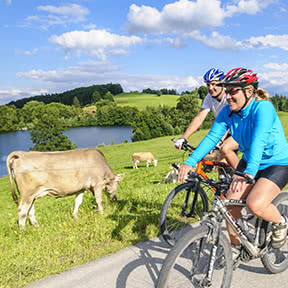 Pedalo — £7 per hour
Kayak, 1 person – £5 per hour
Rafting — cca £20 per person for a 4-hour trip
There is of course a lot more to do, these are just examples. All pretty affordable.
OTHER
You may want to bring some pocket money for souvenirs and gallery/castle visits in Český Krumlov and Rožmberk, and for some ice cream and coffee when out and about.
Here are some slideshows to show you what else is waiting for you:
LIPNO REGION OFFICIAL SLIDESHOWS
And here are a few slideshows from my previous retreats:
Český Krumlov
Please call me or email me to book or ask any questions:
barbara@bravebodies.com
0798 223 6118 (+44 798 223 6118 if calling from abroad)
I can't wait to see you there!